2900 E Hwy 10
Grove, OK 74344-4119
Valence Grove, founded in 1988 as Pride Plating, has established itself as the leader for mission critical, high value parts and is the leading processor for the F-35 program, the world's most advanced 5th generation multi-role fighter.  We have grown from a small facility supporting the F-16, to a 140,000 square foot facility servicing parts up to 24 feet in length for major commercial aviation including all Boeing programs, business aviation OEMs such as Gulfstream, Honda Jet, and Bell Helicopter, and defense programs including the F-35, F-22, F-16, F-18, C-130 and many more.
We are NADCAP and AS9100 certified and provide full service finishing capabilities for aluminum, titanium, and steel components.  Valence Grove is differentiated by its unique approvals including Lockheed fracture critical and Inconel etch and its multiple processing lines. We recently expanded our state of the art 24 ft L by 6 ft W and 8 ft deep line to include type iii anodize and boric anodize, increasing capacity for processing large structural components and high volume orders.
We are willing and able to perform whatever level of assembly you may need. Contact us to discuss how we can help with various services such as bearing installation, bushing installation and honing, lee plug installation, Helicoil insert, Keensert, Slimsert, Rosan fittings, blind nut and threaded fastener installation, riveting, mechanical and sub-assemblies, cable swaging and more. We are certified for Clickbond installation (LMA-PK004), and our experienced staff is here to help you save valuable time.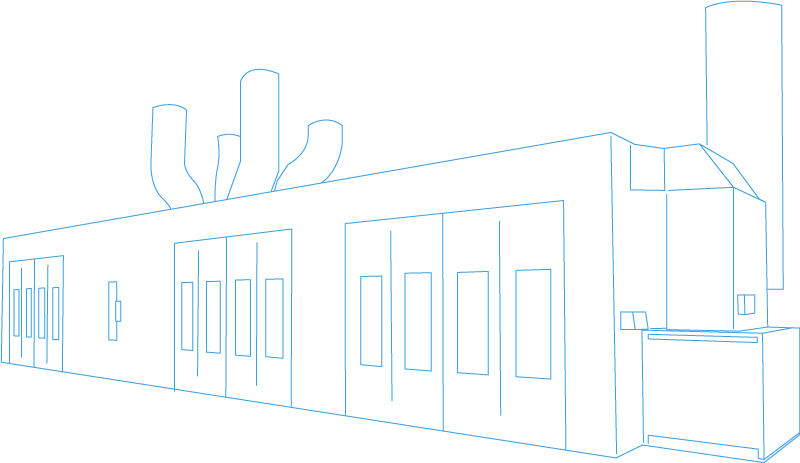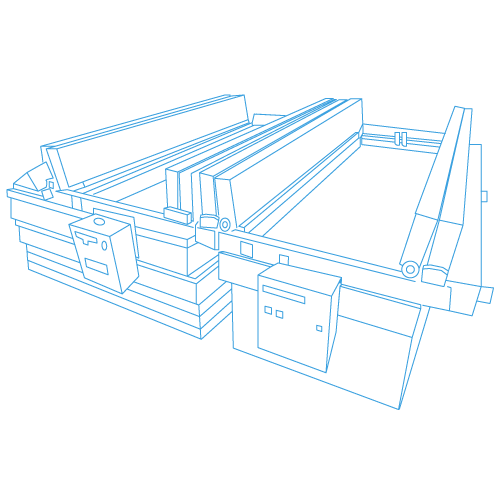 NDT
Hardness/Conductivity
Penetrant
Painting / Coatings
Bond Primer
Dry Lube
Fuel Tank Coating
Primer
Topcoat
Sol Gel
Additional Services
Glass Bead
Part Mark
Shot Peen
Chemical Processing Aluminum
Anodize – Boric Sulfuric
Anodize – Type I Chromic
Anodize – Type II Sulfuric
Anodize – Type III Hard Coat
Chemical Film – Type 1 (Alodine 1200S)
Chemical Film – Type 2 (Alodine 1500)
Chemical Processing Hard Metals
Inconel Etch
Passivation Type II, VI, VII, VIII
Phosphate Fluoride
Titanium Etch (Pickle)
Customer Portal
To access your ProFlow account, login using the button below.
WICHITA, Kan.- Valence Surface Technologies (Valence), the largest independent aerospace and defense product finishing company, has received new Boeing and Bombardier approvals for hardness and conductivity testing at their Wichita facility, formerly known as Chrome...
Key Takeaways 
Valence Garden Grove is one of the premier metal finishers in Southern California. We are centrally located to many local machining companies and original equipment manufacturers from San Diego and Orange County to Los Angeles and Ventura counties.

Our comprehensive range of metal finishing services at Valence Garden Grove encompasses an impressive array of options to meet diverse industry needs. These services include anodizing (clear or dyed), hard anodizing, chemical film, plating, passivation, painting, and spray coating.

Valence Garden Grove serves a variety of industries, including microwave electronics, satellite, defense, and telecommunications.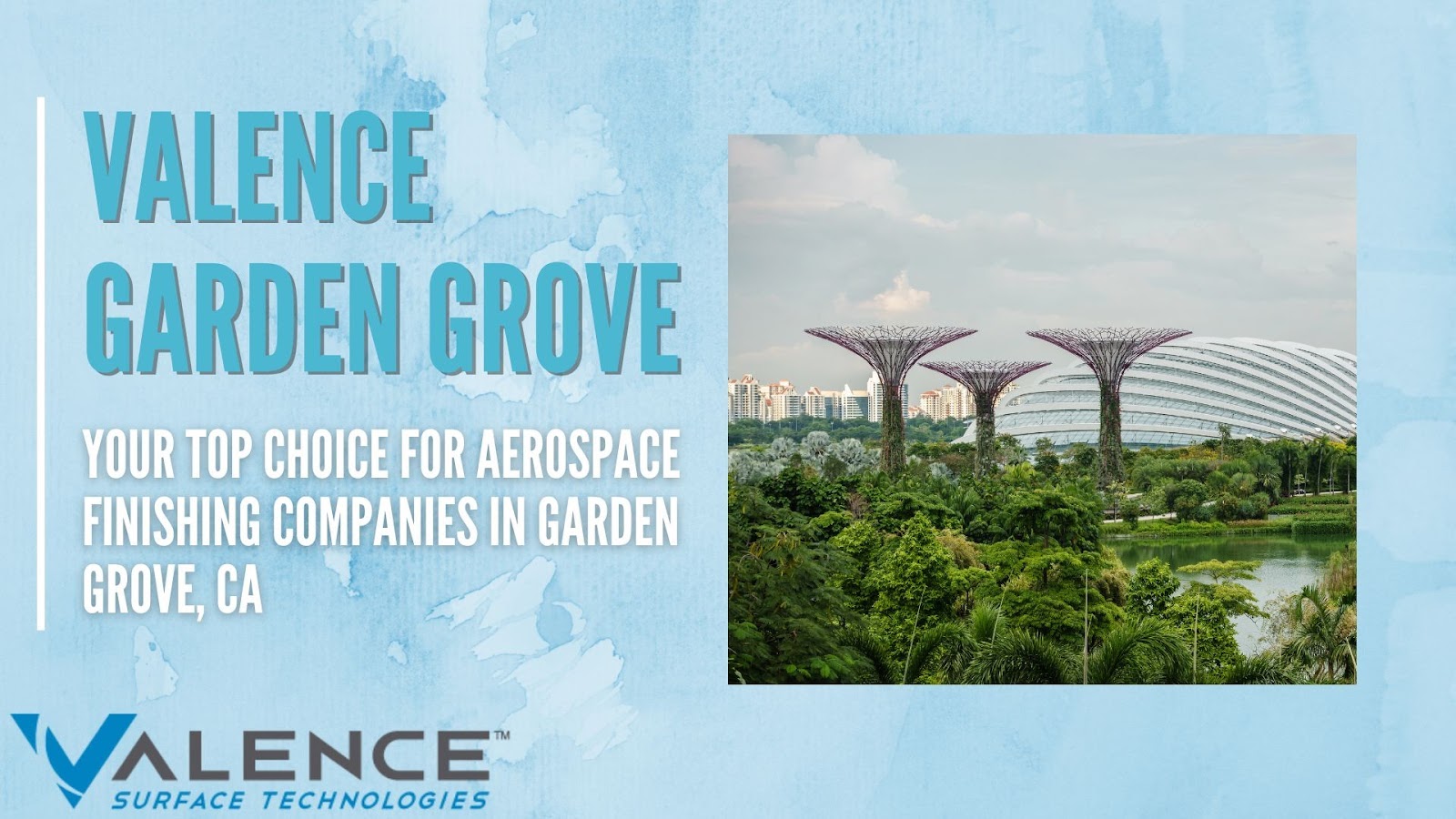 Valence Garden Grove stands out as the premier choice among aerospace finishing companies in Garden Grove, CA. With a rich history of excellence and a commitment to quality that spans over several decades, we've earned our reputation as a trusted partner in the aerospace industry. Our state-of-the-art facilities, cutting-edge technology, and highly skilled workforce ensure that we deliver the highest standards of precision and performance in aerospace finishing services. 
If you're looking to enhance the durability, reliability, and performance of your aerospace components, Valence Garden Grove is the name you can rely on. Join the ranks of leading aerospace companies that have benefited from our expertise and experience by requesting a quote or contacting us today. Your success is our priority, and we look forward to collaborating with you!
Valence Garden Grove
Formerly known as Coastline Metal Finishing, Valence Garden Grove is a leading surface finishing provider serving local machining companies and original equipment manufacturers in San Diego, Orange, Los Angeles, and Ventura counties, plus a number of high-tech companies throughout the US and Canada. We focus on delivering top-notch surface finishing solutions for a variety of industries, including microwave electronics, satellite, defense, and telecommunications, upholding the highest standards of quality and precision in our work. 
Our state-of-the-art facility in Valence Garden Grove is equipped with cutting-edge technology and multiple processing capabilities, ensuring that we meet the diverse needs of our clients and provide them with tailored surface finishing solutions. Whether you're in need of precision plating, passivation, painting, anodizing, or other specialized surface treatments, we are your trusted partner for superior quality and reliability. 
Request a quote or contact us directly to learn more about how we can enhance the performance and durability of your metal components.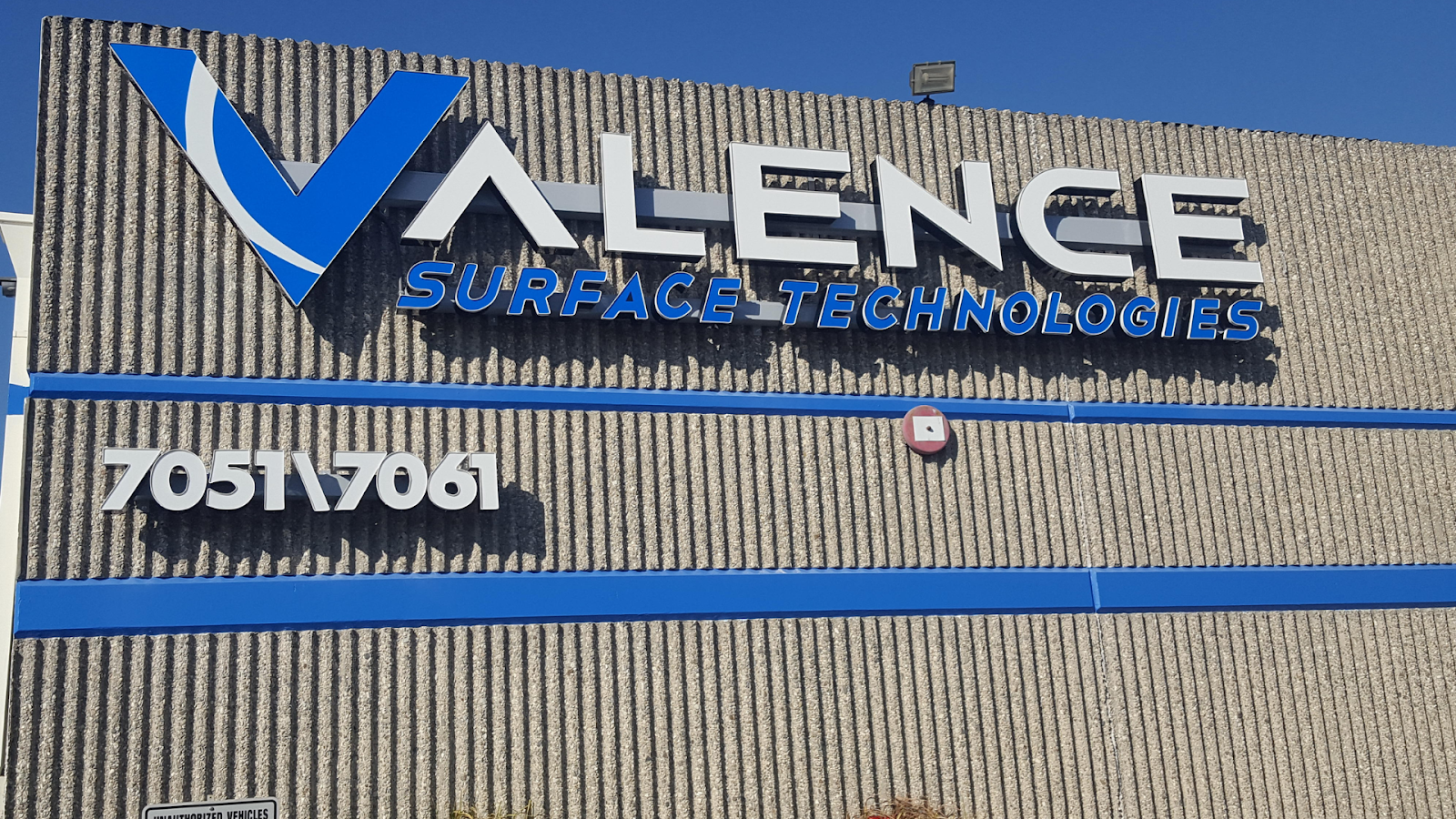 Unlock The Power Of Comprehensive Aerospace Surface Finishing With Valence!
Discover the Valence advantage:
Unmatched Integration

: As the world's largest independent aerospace surface finishing company, Valence offers a truly integrated solution, serving the aviation, defense, and space industries. From start to finish, we ensure seamless coordination and excellence in every aspect of surface finishing.

Trusted Expertise

: Our mission is to be the most trusted partner in aerospace surface finishing. With decades of experience and a team of industry experts, we bring unrivaled knowledge and precision to elevate your aerospace components to new heights.

Excellence In The Supply Chain

: Valence's unique position as the only complete integrated solution in the supply chain ensures efficiency, quality, and reliability at every step of the process.
Partner with us today and experience the difference of working with the industry leader. Let's take your aerospace components to unparalleled levels of excellence together!
Which Industries Do Aerospace Finishing Companies Serve?
Aerospace finishing companies serve a wide range of industries that rely on precision and high-performance components. At Valence, we serve the following industries: 
Satellite 

Defense 

Microwave electronics 

Telecommunications 

Medical 

Commercial Aviation 

Business Aviation 
What Finishing Services Does Valence Garden Grove Offer?
Valence Garden Grove takes pride in offering an extensive range of metal finishing services, driven by a commitment to meet and exceed customer expectations. Our highly skilled professionals with over 15 years of experience working with precision machined parts ensure that each project is handled with precision and expertise, delivering top-notch results. Some of the key finishing services we provide include:
Anodizing
We offer a variety of anodizing services to cater to diverse customer needs. Our options include Boric Anodize, Tartaric Anodize, Chromic Anodize, Sulfuric Anodize, and Phosphoric Acid Anodize. These processes provide a durable and corrosion-resistant surface finish, enhancing the longevity and aesthetics of your metal components.
Hard Anodizing
We offer hard anodize in the class 1 (Non-Dyed) and class 2 (Dyed) requirements. We also have the hard anodize with the Teflon Seal.
Chemical Film
We specialize in Type I, Type II, Class 1A, and Class 3 chemical conversion coatings. We perform these services to the highest degree of care, with approvals for most prime and military specifications.
Plating
Our services include electroplating and electroless plating. Whether you need a decorative or functional plating finish, we offer copper, gold, nickel, silver, and tin plating options to suit your specific project requirements.
Passivation
We provide passivation to a number of specifications. One of the most common is QQ-P-35C, but take a look at all of our approvals.
Painting & Spray Coating
We offer a complete suite of Nadcap and AS9100-approved painting and spray coating services across the US. Our offerings include bond primer, fuel tank coating, dry film lube, Zinc spray, and topcoat applications, ensuring that your components receive the right finish for their intended purpose.
What Are The Benefits Of Aerospace Finishing?
Aerospace finishing encompasses a range of surface treatment and coating processes that are vital in the aerospace industry. These processes offer several key benefits to aerospace components and structures, including:
Enhanced Performance:

Aerospace finishing plays a crucial role in enhancing the overall performance of aircraft and spacecraft components. By carefully applying specialized coatings and treatments, engineers can reduce aerodynamic drag, improve fuel efficiency, and optimize the thermal management of critical systems. These enhancements ultimately contribute to better flight performance, increased payload capacity, and extended operational lifespans for aerospace vehicles.

Corrosion Protection:

Aerospace components are subjected to harsh environmental conditions, including exposure to moisture, extreme temperatures, and various chemicals. Aerospace finishing techniques, such as corrosion-resistant coatings and anodizing, provide vital protection against corrosion, ensuring the structural integrity of components over time.

Aesthetic Appeal:

Aerospace finishing can provide a polished and professional appearance to aircraft and spacecraft, which is important for both functional and branding purposes.

Regulatory Compliance:

Meeting stringent industry regulations and safety standards is paramount in the aerospace sector. Aerospace finishing processes are designed to adhere to these regulations, ensuring that components and structures meet the required quality, safety, and environmental standards. Compliance with these regulations not only ensures the safety of aerospace vehicles and their passengers but also avoids potential legal and financial consequences for manufacturers.
Ready to elevate your aerospace project with the best finishing services? Partner with Valence today for a tailored solution that meets your unique needs. Request a quote or contact us today to learn more about how our aerospace finishing expertise can benefit your project.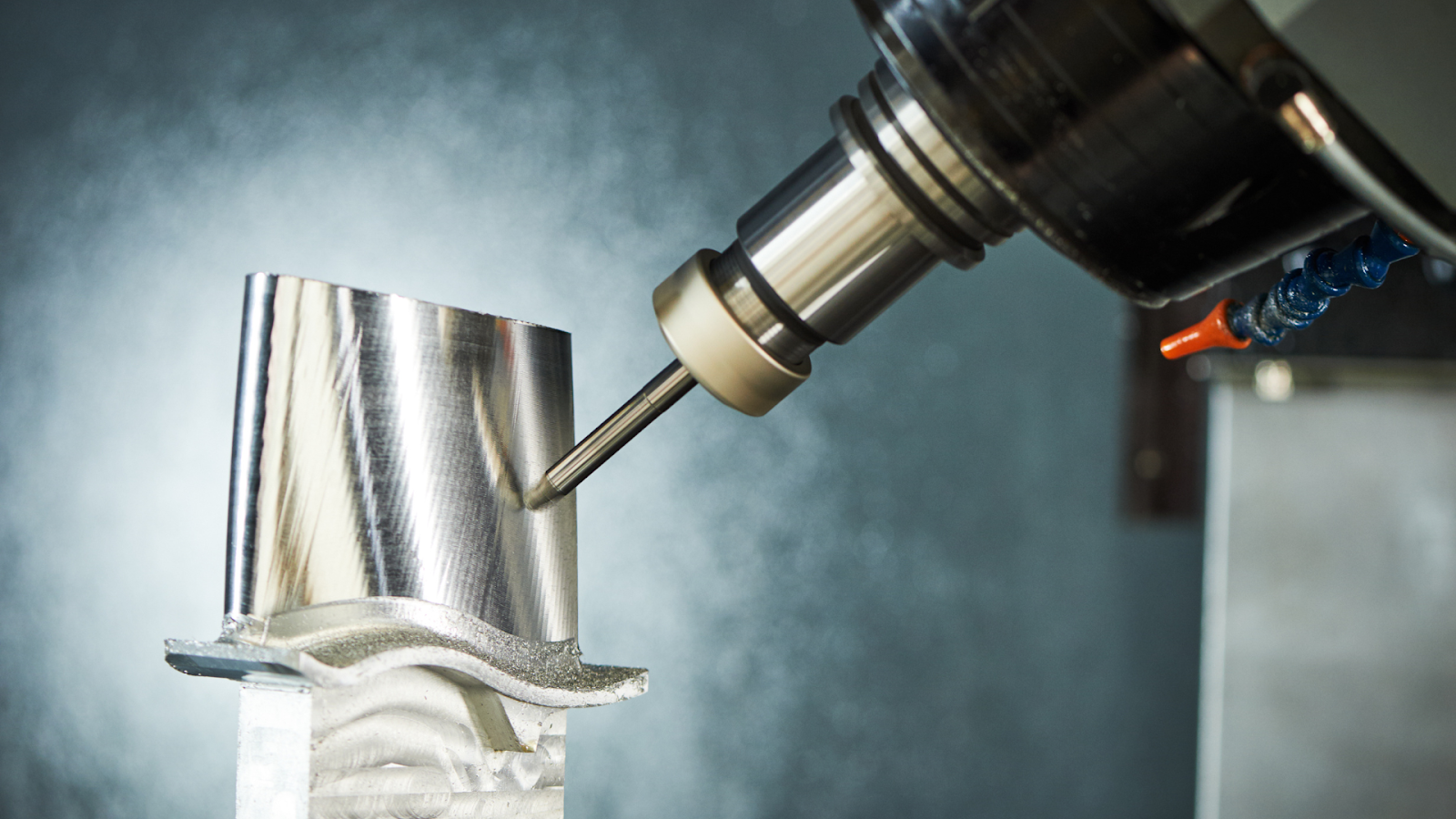 Local Government Support For The Aerospace Industry
The Garden Grove local government recognizes the strategic importance of the aerospace industry and is committed to supporting its growth and development. Initiatives and support measures include:
Tax Incentives
The local government offers tax incentives and credits to aerospace companies to encourage investment and expansion.
Infrastructure Development
In collaboration with key stakeholders, the local government actively invests in infrastructure development projects tailored to the aerospace sector's needs. This includes the expansion and maintenance of airports, the enhancement of transportation networks, and the establishment of aerospace industrial parks equipped with cutting-edge facilities and utilities.
Workforce Training Programs
Recognizing that a skilled workforce is crucial for the sector's success, the government partners with local educational institutions and aerospace companies to develop specialized training programs. These programs aim to equip individuals with the necessary skills and knowledge required for careers in aerospace engineering, manufacturing, maintenance, and research.
Business Development Support
The local government provides resources and assistance to help aerospace companies flourish and expand their market reach.
Efforts Towards Sustainable Finishing Practices
Aerospace finishing companies actively embrace sustainability principles and continuously strive to minimize their environmental impact. Some sustainable practices include:
Waste Reduction
Modern finishing industries are implementing closed-loop systems that recycle and reuse waste materials, substantially decreasing the environmental footprint.
Energy Efficiency
To reduce energy consumption, aerospace finishing companies are investing in state-of-the-art equipment and technologies designed to optimize processes and minimize energy wastage. This includes using energy-efficient lighting, heating, and cooling systems, as well as adopting renewable energy sources like solar and wind power where feasible.
Green Chemistry
Sustainable finishing is shifting towards the use of green chemicals, which are biodegradable and less toxic, minimizing harm to ecosystems and human health.
Environmental Compliance
Finishing industries are rigorously following environmental regulations, ensuring their processes do not adversely affect the environment and remain in line with sustainability standards.
Projected Growth Of Garden Grove's Aerospace Finishing Sector
Garden Grove's aerospace finishing sector is poised for substantial growth in the coming years, driven by several key factors:
Technological Advancements

: Garden Grove's aerospace finishing companies have been quick to adopt cutting-edge technologies, such as advanced coatings and surface treatments, that enhance the durability, performance, and environmental sustainability of aerospace components. This commitment to innovation positions the sector for continued expansion as it caters to the increasingly demanding requirements of modern aircraft and spacecraft.

Industry Collaborations

: The aerospace finishing sector in Garden Grove has forged strong collaborations with leading aerospace manufacturers and research institutions. These partnerships foster knowledge exchange and promote the development of groundbreaking solutions. As a result, Garden Grove has become a hub for aerospace innovation, attracting talent and investment from across the industry. This collaborative spirit not only accelerates the sector's growth but also ensures that it remains at the forefront of aerospace technology.

Geographical Advantage

: Located strategically within the Southern California aerospace cluster, Garden Grove benefits from its proximity to major aerospace manufacturing hubs, research centers, and transportation infrastructure. This advantageous location streamlines the supply chain, reduces logistical costs, and enhances the sector's ability to serve both domestic and international markets effectively.
Final Thoughts 
Valence Garden Grove is the premier choice among aerospace finishing companies in Garden Grove, CA, offering a comprehensive range of surface finishing services to various industries, including satellite, defense, microwave electronics, telecommunications, medical, commercial aviation, and business aviation. With state-of-the-art facilities, a highly skilled workforce, and a commitment to excellence, we are dedicated to enhancing the durability, reliability, and performance of your aerospace components, making us the go-to partner for companies looking to achieve unparalleled levels of quality and precision in their projects. 
To take advantage of our expertise and elevate your aerospace projects to new heights, request a quote today or contact us directly. We're here to assist you every step of the way!
Read Also: 
Frequently Asked Questions 
How do aerospace finishing companies ensure quality control?
Aerospace finishing companies implement stringent quality control processes, including inspection, testing, and documentation, to ensure that all finished components meet the required specifications.
What types of aerospace components can benefit from finishing services?
Aerospace finishing companies cater to a wide range of components, including airframes, landing gear, engine parts, avionics, and satellite components.
How long does the aerospace finishing process typically take?
The duration of the aerospace finishing process varies depending on the complexity and size of the components. At Valence Garden Grove, we provide timelines specific to each project.
Can aerospace finishing companies provide customized finishing solutions based on specific industry requirements?
Yes! Aerospace finishing companies offer tailored solutions to meet clients' unique needs and specifications across various industries within the aerospace sector.
Do aerospace finishing companies offer testing and validation services for finished components?
Yes, many aerospace finishing companies offer comprehensive testing and validation services to ensure that finished components meet industry standards and safety regulations. At Valence, we offer a range of inspection services, including NDT as a standalone service, as well as all pre- and post-NDT finishing services.
How can aerospace companies determine the most suitable finishing process for their components?
Experienced aerospace finishing companies provide consultation services to help aerospace companies identify the most appropriate finishing processes based on the component's material, application, and desired characteristics.
How can I request a quote for aerospace finishing services?
To request a quote, simply click here or contact us directly and our team will promptly assist you in determining your aerospace finishing needs and provide a customized quote based on your specific requirements.
Is aerospace finishing only for metal components?
While aerospace finishing is commonly associated with metal components, some finishing techniques can also be applied to non-metallic materials used in aerospace applications, such as composites and certain polymers.
What sets Valence aerospace finishing company in Garden Grove, CA, apart from other finishing service providers?
Valence Garden Grove stands out from other finishing service providers due to our extensive industry experience, state-of-the-art facilities, and commitment to delivering high-quality finishing services. We are the only complete integrated solution in the supply chain, saving time and money for our customers.
Can aerospace finishing companies handle rush orders and tight deadlines?
Yes! Reputable aerospace finishing companies understand the urgency of time-sensitive projects. At Valence, we prioritize customer needs and offer expedited services to accommodate rush orders and tight deadlines, ensuring timely delivery without compromising on quality.